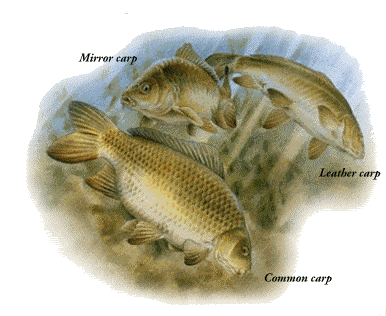 "Common Carp" - The most "common" or perhaps once the most common carp, have lots of small uniform scales all over, they vary in shade from a dark golden colour sometimes almost black to a near silver colouration but the scale pattern is complete and even across the fish.
"Leather Carp" - True Leather carp are not necessarily just mirror carp without scales, there is actually a genetic difference. Leather carp can have a few scales but they do generally have a leathery appearance and quite often a small rounded tail, however, the dorsal row of scales is generally either absent or incomplete. Leathers also have reduced numbers of red blood cells which can slow growth rates. It's generally accepted however that a proper "carp anglers leather carp" has no scales at all.
"Mirror carp" - Have numbers of large often shiney and mirror-like scales scattered randomly across the fish, the patterns vary greatly giving each carp an almost finger print like identity and making some mirror carp very recognisable amongst others of their kind.
"Linear Carp" - Like a mirror but with a line of scales along the lateral line only, many think these to be the most prized and beautiful of all carp and they certainly can be quite stunning.
"Grass Carp" - This is a member of the Cyprinidae family but is the only species of the genus Ctenopharyngodon. quite different to the king carp but is similar to the common carp as far as it's scale pattern is concerned, with a long slender torpedo-like body many say they resemble chub and are even given the disrespectful nickname of Chernobyl Chub.
-----------------------------------------------------------------------------------------
The current UK carp record, Wasing Syndicate's Parrot, caught by Dean Fletcher in January 2016 at the massive weight of 68lb 1oz...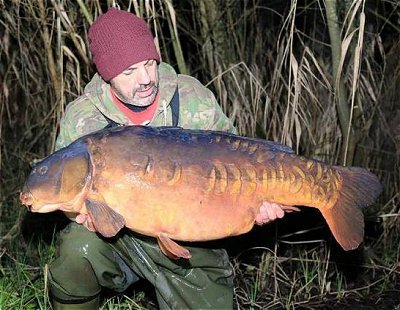 The Parrot has sadly since passed but will she ever be beaten? or has it already? there have been a couple of rediculous claims made to her crown since which were happily declined by the BRFC.
------------------------------------------------------------------------------------------
Breeding information - Carp mature at around 3-4 years for male fish and 5-6 years old for female fish. They spawn from around May-July and need a temperature around 16-22oC sustained over a varying number of days (typically 7-14 days) multiple spawning is common. The carp produce somewhere in the region of 100,000 - 200,000 eggs per kg of body weight so with some carp you can expect over 1,000,000 eggs per carp for each spawning, so over a lakes population this adds up to a massive amount of eggs.
Sadly or so it seems most of these eggs will be eaten by insect larvae, birds, fish including carp and everything else that is looking for a nutritious meal. Quite often not a single carp will make it into adulthood from of the millions of eggs produced, some will become fry only to be eaten by other fish or birds and most of the remaining fry won't survive their first winter. While this sounds quite sad it's not really the case as it would only take a small percentage of these fry to survive each year to leave our fisheries totally overrun and indeed there is some such survival success on some waters but these are in the minority.... so the yearly harvest of eggs actually provide a yearly source of highly nutritious food and the odd few that do make the long journey to adulthood in ideal conditions can keep a water perfectly balanced, a perfect balance is perhaps quite rare..!!
How do to tell the different sexes - This is a very difficult task most times of the year and is best done during the breeding season, at this time of year the males usually loose much of their protective mucus and their body feels noticeably rougher, some say sandpaper like. The male develops small white lumps which account for the roughness known as tubercles which are often more noticeable around the head area. The females retain their mucus coating and are noticeably plump compared to the male fish, also the ovipositor (egg depositor) of the female carp may distend somewhat before, during and for a short while after breeding.